FOR IMMEDIATE RELEASE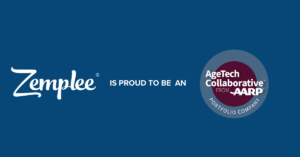 Zemplee Successfully Graduates from AgeTech Collaborative™ from AARP®'s Prestigious Accelerator Program 
Los Gatos, Calif. (July 26, 2023) – Zemplee, an innovative tech and healthcare startup, is thrilled to announce its successful completion of AgeTech Collaborative™ from AARP®'s accelerator program. After eight weeks, Zemplee has emerged as a strong contender in the AgeTech field thanks to AARP's rigorous, project-based, and highly informative program. 
AgeTech Collaborative's accelerator is a one of a kind, bespoke program focused exclusively on AgeTech, accepting only the most promising candidates and providing them with comprehensive support to scale and thrive. Zemplee was selected from a highly competitive pool of applicants due to its groundbreaking AI technology and patented motion sensors, without using cameras or wearables. During Zemplee's time with the program, significant milestones were reached. 
Amy Shroads, Director of the startup program at the AgeTech Collaborative from AARP, had this to say about working with Zemplee, "I thoroughly enjoyed working with Aparna and the Zemplee team throughout the 8-week accelerator program. Their enthusiasm and professionalism made our time together very productive. The Zemplee team was clear on the pain points they needed help with which enabled us to make the most of the resources we offer."
With the completion of the program, Zemplee is now accelerating its growth and achieving its long-term objectives to work with Healthcare Systems and Senior Living Properties. The program has played a pivotal role in Zemplee's evolution, fostering an environment for creativity and innovation. 
As Zemplee prepares to embark on its next chapter, it is focused on leveraging the marketing knowledge, expertise, and networks gained from AgeTech Collaborative's accelerator program. Zemplee remains committed to its mission of ensuring the safety and health of aging seniors and is eager to spread the knowledge about its innovative technology to larger markets.  
About AgeTech Collective™ from AARP®:
AgeTech Collaborative™ from AARP® is an unparalleled innovation ecosystem bringing together cutting-edge thinkers in the longevity tech space to champion meaningful advances so that everyone can choose how they live as they age. AARP's decades of exclusive longevity insights, the breakthrough collaborative ecosystem and community of innovators positions the AgeTech Collaborative to lead the future of AgeTech.
About Zemplee 
Zemplee is a technology platform that utilizes Attentive AI and passive sensors to help the elderly age in place gracefully, with round-the-clock remote monitoring capabilities for caregivers that improves quality of life and reduces hospitalizations without compromising privacy. Co-founders Aparna Pujar and Gary Fowler combined decades of experience in Silicon Valley hi-tech companies and clinical care to develop the artificial intelligence applications and unobtrusive sensors that power Zemplee's innovative remote elderly care system.
Editorial Contact:
Zemplee 
Saloni Desai | saloni@zemplee.com